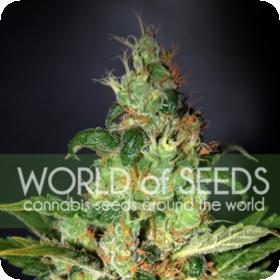 Chronic Haze Feminised Seeds
Chronic Haze is the strain that brings together a wide variety of cannabis genetics. This strain combines Northern Lights, AK47 and Skunk, which are all indica/sativa hybrids.
This strain produces amazing yields in a short time and is ideal for all levels of grower. The scent of the plant is a combination of ripe fruit and incense with a mouth-watering flavour to match. The effect is energetic and really lasts, perfect for those who just want something to take the edge off.
This strain is feminised and will only grow into female plants. Feminised seeds are perfect for growers who don't plan on breeding their own crops. For these growers the male plants are a complete nuisance as well as a waste of time and money.
This is because they have to be removed before they can harm the female plants during the flowering period. Feminised seeds also tend to produce higher quality plants than regular seeds. Some breeders also prefer to use them, even though feminised breeding is very difficult.
This strain has a flowering time of 60 – 70 days and can be grown indoors or outdoors.
Remember that the cultivation of cannabis seeds is illegal in some countries; please check the laws of your country before attempting to cultivate cannabis seeds.