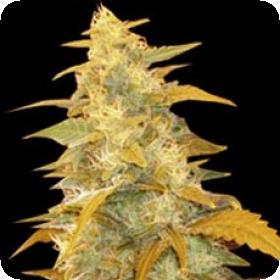 Afghan Kush Feminised Seeds
It started out as a landrace strain growing wild in the Hindu Kush mountains but has since made a name for itself all over the globe.
Even today, these plants grow wild and have had ages of evolutionary opportunities to develop distinct strengths in terms of its ability to grow and thrive in swiftly-changing and harsh weather conditions. These seeds are also feminised, making them particularly easy to grow.
The mountain genetics make Afghan Kush remarkably hardy. Outdoor growers will appreciate how well it stands up to the elements, even frost. Late October, even early November, is fine for these plants.
In fact, the longer they are allowed to grow, the better they get.
These plants are versatile enough to grow indoors as well, and they work with virtually any setup. Their squat stature lends itself well to specialised methods like SoG and ScrOG, but they grow great in pots or soil as well.
They are small enough for closet and balcony growing schemes, too. Even more impressive, they finish extremely quickly - 45 to 55 days and you're good to go.
But it gets better, still! Most plants will yield 500 g per square metre and some even produce more. Indoor specimens can produce over 600 under optimal conditions.
The finished product boasts incredible levels of THC and is all indica. In other words, don't make any plans for after you light this one up - you will be locked to the couch for quite a while.
Despite its potency, this variety is also regarded as a good medical marijuana strain for its ability to alleviate nausea and calm migraines. It is also a highly effective sleep aid for insomnia sufferers. The effects are almost immediate and last for hours.