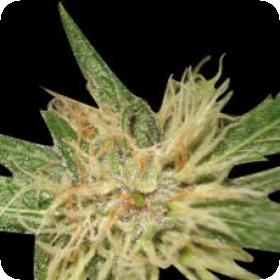 The name of this strain is the definition of irony. Once you've tried Amnesia, you will agree: it is quite unforgettable. It is also among Holland's most popular cannabis strains. A favourite in the coffee shops, it quickly and easily outsells any of its competition.
The reputation of Amnesia has been spreading across the globe for years and once you start working with these seeds (and enjoy the fruits of your growing efforts) you will see why.
Amnesia's genetics are quite impressive. They include elements of strains like Northern Lights, Haze and others. That makes Amnesia the representation of genetics of some of the world's most popular and iconic strains.
The buds are tight and compact and become soaked with sticky resin when fully mature. Best of all, they are vigorous producers - great news for the commercial grower.
Part of the appeal of Amnesia is that while it is mostly sativa, it is surprisingly indica in its look and stature. It is a fast-flowering strain that produces a large quantity of quality bud. The plants grow to a medium height, making them great for most indoor setups.
The plants respond nicely to hydroponic growing environments, but they also take well to soil and potting. Their size lends them to speciality methods like SoG, ScrOG and Deep Water Culture, and makes them easy to grow in closets or rooms with low ceilings.
These plants are feminised but do require a bit more attention than the average feminised plant. They insist on a consistent diet of rich nutrients and likes a predictable growing environment. If at all possible, grow Amnesia indoors.
Outdoor growers should be sure to plant late spring to ensure a majority of warm, long days. They thrive in warm, low-humidity environments and will reward you generously for giving them a bit of pampering.