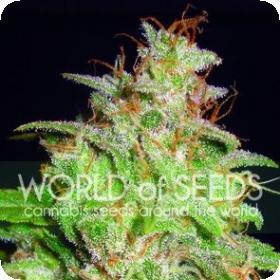 Mazar x White Rhino Feminised Seeds
This strain is a cross between an ever popular and legendary strain Mazar I Sarif and White Rhino. Mazar is well known for its extremely high yields and impressive resin production as well as its amazing medicinal properties.
White Rhino came from the classic White Widow strain. It is primarily and Indica plant and is famous for its extremely strong and heady effects.
White Rhino is also well known for its medicinal properties, both strains have high levels of THC and CBD. In fact the THC levels can be very high.
This means that Mazar x White Rhino can be used as a painkiller, a method of battling stress and anxiety related illnesses, and it can even have positive effects on those suffering from depression.
The plant has the high yield and resin production which it inherited from the Afghani side of its genetic make-up. It also has very relaxing properties which are more reminiscent of the White Rhino, Indica side of its lineage.
This strain is feminised which means that the seeds will only grow into female plants. These seeds have become more and more popular over the years, especially amongst those who have no plans to breed their own crops.
For breeders feminised seeds are an option, although the method used to breed two female plants is a lot more difficult than regular breeding.
Female plants are capable of producing a feminised pollen which can be used to fertilise another female plant. The resulting seeds are higher in uniformity and quality than regular plants.
Feminised seeds are perfect for growers because it removes the issue of the male plants. For those who do not plan on breeding the male plants are simply an irritation as well as a waste of time and money.
At the start of the flowering process the males must be removed in case they harm the female plants. This means half of the seeds are wasted and so is half of the money spent by the grower. Using feminised plants also means a larger and more uniform crop.
This strain can be grown indoors or outdoors and has a high resistance to pests. Indoors it has a growing time of around 55 - 65 days and outdoors it should be harvested in early October. Its indoor yield is around 400 - 600 g/m2 and its outdoor yield is around 900 g/m2.