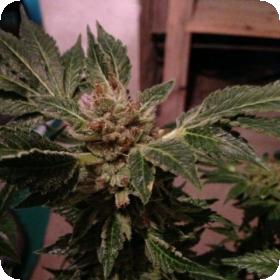 New York 47 Feminised Seeds
New York 47 is a combination of two fantastic strains, New York City Diesel and AK47. This strain is sativa dominant and will need a bit of help with height control when grown indoors.
This is a great strain for growing in a Screen of Green set up. The buds are medium density with huge trichome glands. The scent is a combination of citrus and grapefruit with a slight hint of chemicals.
The effect is euphoric and uplifting, but can be extremely relaxing in larger doses. 
This strain is feminised and will only grow into female plants. It is also a photoperiod strain and will require a light cycle in order to flower. Feminised seeds are great for growers who don't plan on breeding their own crops.
For these growers the male plants are useless and can actually cause issues later on in the flowering period. Feminised plants can save a huge amount of time, money and energy that would usually be wasted on the males.
Feminised seeds also tend to produce higher quality plants than regular seeds. For this reason some breeders also prefer to use them, even though feminised breeding is extremely tricky. 
This strain has a flowering time of 60 – 70 days and can be grown indoors, outdoors or in a greenhouse. 
Remember that the cultivation of cannabis seeds is illegal in some countries; please check the laws of your country before attempting to cultivate cannabis seeds.