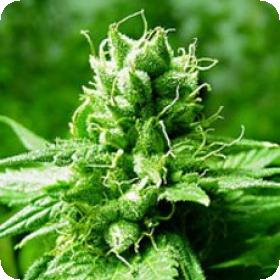 Brazil Amazonia Feminised Seeds
If the idea of a truly exotic, wild strain of cannabis holds a particular appeal for you, look no further than Brazil Amazonia.
The originals grow wild in the Amazon Rainforest and is used by indigenous peoples of the region as a powerful pain-killing medicine, particularly for women in labour. It is no surprise that it is also a popular strain among medical marijuana users.
Brazil Amazonia is strong but not overwhelming, which also adds to its appeal as a medicinal strain. The flavour is an interesting contrast of bitter and sweet and the aroma is peppery and spicy.
The buds grow huge and become heavy enough as they grow to pull down the plant's branches under their uncommon weight.
These seeds are great for either indoor or outdoor growing, but their genetics make them pre-disposed to growing in warm climates. The good news is that they have also developed a natural resistance to mould and fungus having needed to learn how to thrive in very humid conditions.
If you grow Brazil Amazonia outdoors, be sure to plant it strategically to ensure that it grows during the height of summer. The plants will need to be harvested by no later than early October.
Indoors, the plants grow well using any preferred growing method. The plants are short enough for growing in small spaces like closets or on balconies, and they take well to Sea of Green and Screen of Green setups. The plants finish after just 8 or 9 weeks on average.
If this is your first time growing cannabis or if you are an experienced grower looking for a simple, well-producing variety for your next project, we recommend giving Brazil Amnesia feminised seeds a try. They are easy to grow and very predictable.