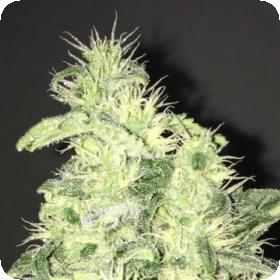 Supreme CBD Durban Feminised Seeds
This medicinally-focussed strain packs a whopping 8% CBD, fine-tuned to give a perfect 1:1 ratio, with a sublimely mild 8% THC level, for excellent pain-killing, anti-spasmodic and anti-inflammatory properties with much milder psychoactive effects than a non-medical strain.
As a Sativa-dominant variety, this strain also produces up lifting, de-stressing effects, as well as a pleasantly relaxing body stone.
The flavour is sweet, mild and smooth, with hints of aniseed and liquorice.
Nirvana indicates that this strain is effective for treating chronic pain, epilepsy, anxiety/stress disorders, irritable bowel syndrome, Crohn's disease and ulcerative colitis, to name just a few conditions.
Genetics:
Durban Poison x CBD (The Supreme)