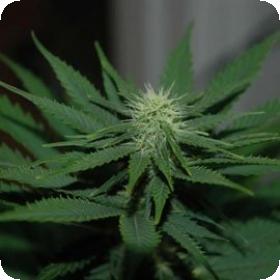 Jock Horror Feminised Seeds
Described as an all-time favourite, Nirvana Jock Horror feminised seeds are a predominantly Sativa hybrid of Northern Light, Skunk, and Haze.
This particular plant is notable as it produces such intense amounts of resin that its branches glisten with TCH glands and will finish flowering earlier than the original Jack Herrer.
Jock Horror is a tall growing plant, which is best grown indoors and has a yield of 350-450 m/g2 with a flowering time of 9-11 weeks. It also has the added bonus of having medicinal uses. Certainly a strain to be admired.
Jock Horror seeds have the special quality of being feminised which has several advantages over regular seeds and although some may prefer to stick to the unaltered regular seeds there is no good reason to be wary of any manipulation which has gone into creating the feminised strains.
Feminised seeds mean that unlike the regular seeds, which will produce a roughly even 50/50 split between male and female plants, they will almost 100% only result in females.
This means that a grower does not have to waste time and space, especially vital when growing an indoor plant, on those pesky males which are of no use in the harvest.
As well as this feminised seeds means that a person does not have to buy twice the number of seeds, and therefore spend twice the amount of money, in order to have the desired number of females.
The males only come in to use if a person wishes to breed their own future crop and even then it is possible, although extremely difficult, to manipulate the females into producing the pollen necessary for reproduction.
This, however, should only be attempted by the most experienced growers due to its level of difficulty, yet if achieved the future crop with be of greater uniformity than if regular seeds had been used for breeding.