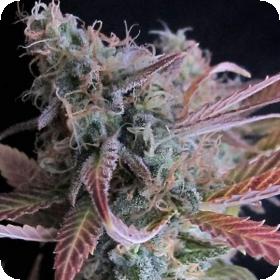 Raspberry Cough Feminised Seeds
Sometimes it can be tricky figuring out where a cannabis strain gets its name. On the one hand, it's easy to tell where the raspberry part plays in with this one but the "cough" part is more of a mystery.
Let's face it: some strains are a little hard on the throat and a bit harsh in the lungs. You know what we're talking about: the kind you never light up without a bottle of water nearby. Well, that's what's strange about Raspberry Cough.
It is nothing like that. In fact, this smoke is smooth as velvet and the experience is twice as luxurious.
Perhaps it's that smoothness coupled with its awesome berry-like flavour that makes it a favourite in medical marijuana circles. The breeder lists it as one of their most sought-after medicinal strains, and we are sure that is so for a variety of reasons.
We already know it tastes great, but is also smells wonderful and delivers an effect that is clear-headed, peaceful and uplifting. No paranoia or anxiety here: just a pure, mellow, full-body high with no negative side effects.
It provides the perfect recipe for relief from a host of ailments, but particularly things like anxiety, stress and depression.
Raspberry Cough gets its genetics from landrace Cambodian which is then crossed with the award-winning Nirvana ICE. It has a slight hint of berry but also Asian spices. The plants grow indoors or outdoors with comparable results.
They are tall in stature and have an elegant, stately look about them. In fact, they look so good one almost doesn't want to cut them down. Upon full maturity, they are covered in gorgeous, resinous buds with fiery red hairs.
Turn down the temperature, and they take on a hypnotic blue colour that contrasts the reds nicely.
Please remember that the growing of cannabis plants and the cultivation of seeds is illegal in some countries - please check the laws of your country and don't be growing any plants if it is against your country's laws.