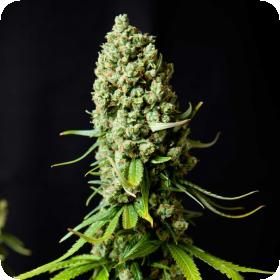 Super Skunk Feminised Seeds
Super Skunk Feminised is a trip back to the iconic strain's Afghani roots. It is a wonderful improvement of Skunk #1 that adds weight, flavour, and potency. It effectively takes Skunk #1 to a new and very attractive level.
Throughout the process of developing Super Skunk, the breeders set their sights on creating a strain that had solid commercial potential, was exceptionally potent, and vigorous. Any grower will agree: they hit the mark on all counts.
Over the years, many Afghani growers have tried their hand at creating quality hybrids and a number of truly impressive plants have resulted from those efforts. Super Skunk, however, ups the antes considerably and it does it in a way that Skunk growers haven't seen since the mid 1980s. In short, this is a truly "professional" strain that has permanently raised the bar on the definition of what makes a good Skunk strain.
Grow Super Skunk in a well-ventilated, air-filtered grow room to detract from these plants' permeating aroma. Any indoor method will do. They like a 16/8 light cycle during the vegetative phase and a 12/12 balance during the flower stage.
Outdoors, plan to harvest Super Skunk by early October and grow it in a discreet location. It makes its presence known over a considerable radius. The performance and yield are relatively consistent indoors and out so feel free to use any preferred method or environment.
Lastly, while Super Skunk may be a good strain for novice growers (and it is - practically grows itself), it isn't for the novice smoker. The effect is so potent that it can easily overwhelm anyone who hasn't tried marijuana before. That said, it's a great sleep aid and has other medical applications as well, mostly for physical symptoms like nausea and migraine.