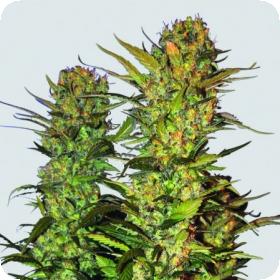 Lithium OG Kush Feminised Seeds
Lithium OG Kush is a combination of a top OG Kush pheno and a Master Kush. This strain is called Lithium OG Kush for a reason, it produces a high amount of THC but very little CBD. This gives is a powerfully uplifting and euphoric effect which makes it ideal for those suffering from anxiety and depression.
The flavour is pretty similar to that of Sour Diesel with a hint of lemon and grapefruit. The scent is delightfully fruity with that nice fuel edge. This plant can get pretty dense and will need a bit of pruning to keep her in check. The other reason that the strain is called Lithium is in honour of the band that shared it's name with the seed company.
This is a feminised strain, which simply means that it will only grow into female plants. It also means that the plants will require a light cycle in order to flower. Most growers prefer to use feminised seeds because they make the whole growing process easier. Usually growers would have to dispose of the useless male plants, wasting half of the crop and half of the money spent on seeds. Feminised seeds are also often higher in quality and uniformity than regular seeds.
This strain can be grown indoors or outdoors and needs 56 - 63 days to flower.
Remember that the cultivation of cannabis seeds is illegal in some countries, please check the laws of your country before attempting to cultivate cannabis seeds.