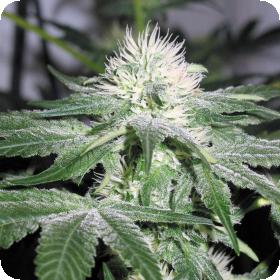 Ice Feminised seeds is an award-winning strain from Nirvana, produced through a careful selection process from thousands of cannabis plants.
It is a unique combination of Afghan, Shiva, Northern Light, and a secret special Skunk, resulting in a Sativa/Indica combination which has added medicinal properties.
The plant produces dense flowers which are covered in trichomes and buds that grow along the main branches resulting in a high marijuana flower-to-leaf ratio as well as this it has a characteristic fuel like aroma.
Ice seeds can be grown both indoors and outdoors with a flowering period of 8-10 weeks. It grows to a medium height and has an average yield of 400-500 g/m2.
Feminised seeds are particularly popular as they have several advantages over regular seeds. Although some people may prefer the regular, unaltered kind, however for sheer practically, feminised seeds can not be beaten.
In a regular seed pack it can be guaranteed that the seeds will grow into a roughly even split of male and female plants, although this can sometimes differ in favour of the females.
With feminised seeds however, they have been manipulated into only producing females seeds with usually a near 100% success rate. Male plants generally serve no purpose except to take up space and time which would be better spent on the females.
Feminised seeds also means that a grower does not have to buy twice the number of seeds to ensure that there are enough females in the crop.
It is even possible, although this should only be attempted by the most experienced growers, to manipulate the female plants into producing the pollen necessary for reproduction resulting in a future crop which has a greater level of uniformity.