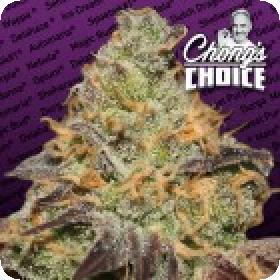 Blue Kush Berry Feminised Seeds
This sweet indica is a relatively new combination, but an immediate success. It is a mix of Kush, which renders the plant bushy and extremely resinous, and Shishkaberry, which gives it the enchanting and delicious flavour.
The potency on this strain is ridiculous, it is extremely physical in its effect and will definitely strap users to the couch for a while.
It is recommended to medicinal users for pain relief, stress relief and appetite stimulation. The flavour is extremely fruity but still delicate which matches nicely with its lovely colouration.
This strain is feminised, meaning that it will only grow into female plants. It will also require a light cycle in order to flower. Feminsied seeds are primarily popular with growers and experienced breeders.
This is because they tend to be of a higher level of quality and uniformity than regular seeds. They also remove the issue of the male plants, which are a total nuisance to growers.
They take up valuable resources that would be better used on female plants and are a complete waste of money.
This strain needs 55 – 60 days to flower and can be grown indoors or outdoors.