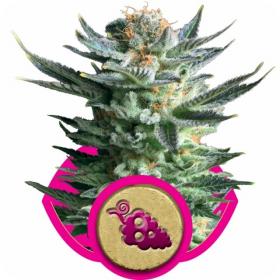 Fruit Spirit Feminised Seeds
Fruit Spirit is the latest result of Royal Queen's ongoing effort to develop new and exciting flavour experiences for cannabis enthusiasts. This strain is among the sweetest skunk varieties you will ever try.
In fact, this one is so unique and so full of flavour; we predict that you will never tire of it. Even better, we are certain that anyone who tries it will most definitely keep coming back for more.
The great news is that these seeds don't keep you waiting and the plants don't keep you wanting. They are of unbeatable quality and produce an impressive yield under the right conditions.
Fruit Spirit is a Sativa dominant plant, but its indica genetics work well in the height department. These plants simply will not grow over 3 feet indoors. This strain is a prime candidate for methods like Sea of Green and can be cultivated in tight spaces.
Outside, it needs plenty of sunshine and warmth so Northern Hemisphere growers should be mindful of its needs. The warmer and brighter the better. Indoor yields can top 400 g per square metre when grown under 600W light.
The plants won't stretch very much while flowering. They present with large main colas with a scattering of flower sites throughout.
The buds are tight and dense and thick with frosty resin.
Best of all, the smell is far more pleasant than your average Skunk variety and it intensifies as the plants become ready for harvest.
Flower time is a scant 8 weeks - extremely short for a sativa-dominant variety! Let the buds fully mature before harvesting and let them dry for at least two weeks before clipping to maintain the maximum amount of rich flavour and potency.
Fully cured product will stay fresh and potent for months when properly stored.
Please remember that the growing of cannabis plants and the cultivation of seeds is illegal in some countries - please check the laws of your country and don't be growing any plants if it is against your country's laws.