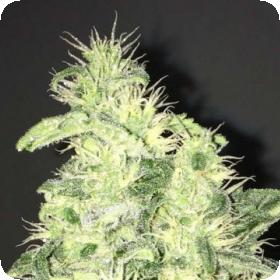 Supreme CBD Kush Feminised Seeds
This CBD-heavy strain was created by combining The Supreme (An experimental high CBD variety) with a G13 Haze x OG Kush clone, then working on an intensive breeding programme, to create an ultra-stable, rock-solid new medicinal variety.
Supreme CBD Kush generates an impressive 9.5% CBD level, as well as an easy-going, yet still effective 9.5% THC level, for a medicinally-optimised 1:1 ratio.
Despite being a Sativa/Indica hybrid, this variety tends to produce effects that are mainly Indica in nature: Combined with the high CBD level, this strain tends to offer more of a physical, pain-killing and relaxing body stone than a head high.
Nirvana describes this strain as being effective for treating conditions such as chronic pain, PMS cramps, Parkinson's disease and MS, among others.