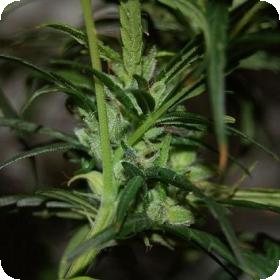 Sterling Haze Feminised Seeds
Sterling Haze is a cross of two legendary strains: Haze and Northern Lights. Both of these strains are noteworthy in their own rights and have each contributed to countless hybridization projects over the years.
This particular variety merges the best of what many regards to be two of the best (if not the absolute best) players in the world of cannabis. The result is a hybrid that brings all the best of each of its parents to the table.
It rewards growers with good yields and enthusiasts with equally, if not exceedingly, good times.
THC levels in these plants does tend to fluctuate a bit, owing mostly to the growing method but also to dominant genetics. On average, one can expect a high to very THC content.
This is an F1 hybrid that grows tall and lanky like a pure sativa but has buds that more closely define its indica ancestry. Flowering time is about 11 weeks. An extra week delivers a little extra kick.
The aroma and flavour are virtually the same: sweet and sour with attributes that trend toward Haze. The effect fills the head but is also very uplifting. In short, it delivers a perfectly balanced hybrid effect that few other strains can boast.
The plants grow well under a variety of conditions. Indoor growers can employ any preferred method and expect good results. They will take up a bit of space in the grow room, but they also yield well enough to warrant that demand.
Under optimal conditions, they are very impressive producers and even allow a considerable margin of error for new growers working on improving their green thumbs. The fact alone that the seeds are feminised make them relatively easy to manage and grow.
Experienced growers will find they respond even better with a bit more care and maintenance.
Please remember that the growing of cannabis plants and the cultivation of seeds is illegal in some countries - please check the laws of your country and don't be growing any plants if it is against your country's laws.