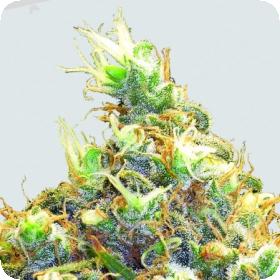 Mango Skunk Feminised Seeds
This strain is a combination of Mango and Venus Flytrap, both of which are extremely well thought of strains. The result is an indica dominant plant with a definite sativa influence when it comes to the effect.
This strain is super uplifting and active, perfect for those who like a little boost to get things done or to be creative. The plant itself grows large, fan leaves of a nice light green colour. It has an earthy yet creamy flavour and scent with a touch of mango and a little bit of cinnamon.
Mango Skunk is a feminised strain, which means it will only grow into female plants. Feminised strains are great for growers, who usually have no use for the male plants.
The males take up around half of a regular crop and so will pointlessly use up resources that would be better used on female plants. Feminised will also produce a higher quality and more uniform crop.
For this reason some experienced breeders also use feminised seeds. It is possible to stress a female into producing feminised pollen, which can be used in place of the male pollen.
However, this is a difficult breeding method that should only be attempted by experts.
This strain will grow well indoors or outdoors and needs 63 - 77 days to flower.
Remember that the cultivation of cannabis seeds is illegal in some countries, please check the laws of your country before attempting to cultivate cannabis seeds.
Genetics:
Mango x Venus Flytrap (Skunk Special x (Jock Horror x Skunk #1))