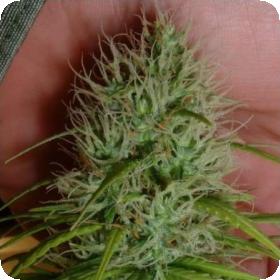 Nirvana Seeds' Chrystal is composed of a White Widow re-back-crossed with Northern Lights, giving it an excellent set of genes.
The finished plant is said to be an easily manageable grow producing large buds, with a sticky resin coating, a smell almost akin to that of kerosene and to have a quickly established effect.
As an F1 hybrid, Chrystal has an exceptional yield of an outstanding strain including many properties would be perfect for a medicinal grower and was a first place winner of the 2002 Dutch Highlife Cup. Great for those just starting off their collection, as well as for an established collector.
Chrystal, as with many other Nirvana seeds available, is a feminised seed. This means that it has been genetically altered to make it altogether easier and much more user-friendly.
Many growers have little to no use for the male plants produced by regular seeds, as they are not a requirement when growing only that same strain alone.
The grower then ends up having to throw away a lot of the males produced, meaning wasting a lot of time and money and resources that could have been put into another female plant.
With a feminised seed this problem is eliminated. It is also possible, if an experienced breeder were looking the creation another crop from a feminised seed, for it to be done using only the females.
The process may be more complicated, but it does mean that the resulting offspring are much more uniform in quality, so the grower will have a better idea of the quality of crop produced.
Time, money and equipment are all valued commodities, which is why it is not surprising that this variety of seed is so favoured among growers, so as not to waste anything that needn't be.
This strain has a growing period of around 8 to 10 weeks and has a yield of approximately 400-500 grams per square meter.