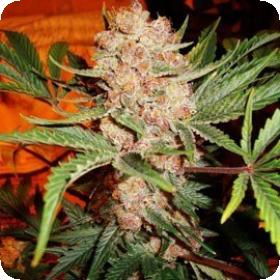 Bubblelicious Feminised Seeds
Developed in the Midwest of the United States then brought to the Netherlands during the 1990s, Bubblelicious is a very resinous, super-sweet hybrid cannabis variety that presents in various phenotypes, many of which have a distinct pink bubblegum flavour and scent. It has been praised by the medical marijuana community as an effective treatment for a variety of ailments.
This predominant indica is a feminised variety, making it very easy to handle even for the most inexperienced grower, but a little advance knowledge of the process goes a long way in getting good results with these plants.
For starters, they prefer long light cycles - 18/6 in the grow room is ideal during the vegetative stage, scaled back to 12/12 during the flowering stage.
The plants are relatively short, so they work well in any setup - soil or hydro, even in SOG or ScrOG. In fact, some growers swear by SOG setups for maximising yields - upwards of 450 g per square metre on average.
Outdoors, it's best to plant these seeds (or seedlings if they've been started inside) at the very beginning of summer - this will help simulate the more controlled environment of a grow room and give the plants the levels of light they need to produce in abundance.
Outdoor yields can range between 35-70 g per plant. Curing for at least 10 days in an arid, dark (but ventilated) environment is recommended before clipping.
Total flowering time for Bubblelicious is about 8-9 weeks indoors and about 10 weeks outdoors. When finished, it delivers an effect that is nicely balanced between a moderate indica stone and an effervescent sativa buzz.
It's a good end-of-the-day sort of strain and has also been described as a good social and medicinal variety.