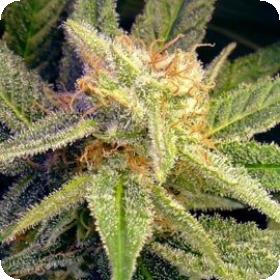 Blue Mystic Feminised Seeds
The name itself is mysterious and alluring and it is definitely one befitting of the strain. The genetics of Blue Mystic are unknown but, according to the breeder, it bears strong resemblance to Northern Lights.
There is also speculation about both Blueberry and Skunk genetics. The good news is, if there is any Skunk in these plants, its scent does NOT give it away. It has a very neutral smell and whet few notes are there are much more like Blueberry.
This makes it a perfect train for indoor cultivation.
The plants flower in just 7-9 weeks on average. They have a mysterious light blue colour and its trichomes look almost grey and opaque close-up. Indoor growers will appreciate its discreet nature along with its relative ease in cultivating.
It responds well to virtually any indoor method and takes well to specialized methods like Deep Water Culture, SOG and ScrOG. The finished product gives off a sweet aroma with hints of anise or licorice tinged with raspberry.
After a few weeks of curing, the overall effect intensifies considerably. Its aroma and flavour mixture has been described as "sensual," almost having an aphrodisiac effect. Even the high it delivers is gentle, like a lover's touch and builds slowly.
It becomes more intense with every draw and has an exceptionally high ceiling. THC content is very high.
This strain is also developing a following in the medical marijuana community. Users report that it is a great strain for a variety of applications including aches and pains, arthritis, and a variety of sleep disorders.
This is an indica-dominant strain so it will have a slightly heavier effect than many more common medical strains. It is generally easy to grow and also easy and very pleasurable to smoke.
Please remember that the growing of cannabis plants and the cultivation of seeds is illegal in some countries - please check the laws of your country and don't be growing any plants if it is against your country's laws.