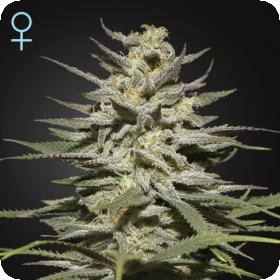 Super Lemon Haze CBD Feminised Seeds
Super Lemon Haze CBD is a combination of the popular Super Lemon Haze and a CBD rich father strain. This has created a CBD high medicinal strain that is ideal for those who are suffering from a wide variety of issues.
It has roughly equal levels of CBD and THC with both sitting at around 9 - 12%. This means that the effect is relaxing but not too psychoactive, for those who want all of the painkilling effects without any of the distraction of the THC.
This strain can be purchased in the form of feminised seeds. Feminised seeds are by far the most cost effective way to grow cannabis, for those who have no plans to breed. For these growers the male plants, which take up half of a regular crop,
are not only useless but actually an active annoyance.
They can harm the females unless they are dealt with, giving growers a whole other thing they have to faff around with. Feminised seeds allow for larger crops of higher quality plants. For these reasons a lot of breeders actually prefer feminised seeds as well.
However, feminised breeding is no mean feat and should only be attempted by experienced breeders.
This strain will grow well indoors, outdoors or in a greenhouse and will only require 70 - 77 days to flower.
Remember that the cultivation of cannabis seeds is illegal in some countries, please check the laws of your country before attempting to cultivate cannabis seeds.
 
Genetics:
Super Lemon Haze female x High-CBD male