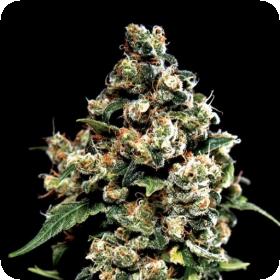 Jack Herer Feminised Seeds
Jack Herer Feminised Seeds from Greenhouse Seeds Co. are a Sativa strain plant that are created from a combination of Haze and Red Skunk.
This is an all feminised version of the much celebrated and respected Jack Herer plant. The strain was named in commemoration of the famed author and pro-hemp activist Jack Herer, who many consider an integral force in inciting the pro marijuana debate in the USA.
This particular strain has won numerous awards including first place at the High Times Cannabis Cup in 2004 and is considered not only one of the best strains money can buy but also a true connoisseur's choice.
This Sativa dominant plant has the signature long branches that bloom beautifully frosted buds that are thick with resin and incredibly densely packed.
This plant is at its happiest when it has room to grow and stretch out those massive Sativa branches and requires a patient mind when it comes to the flowering phase.
This strain is most suited to SoG and SCRoG systems for an optimum yield and you are advised to only grow this plant outdoors if you have a Mediterranean climate.
While it is true that the Jack Herer is not the easiest plant in the world to grow the results of your labour and patience will be richly rewarded with a strain that has incredibly high levels of THC as well as an excellent yield.
The breeders at Greenhouse Seeds should be extremely proud of themselves for this strain. Testing has consistently shown very high THC levels, far above what most plants could ever hope to achieve.
The resultant high is an incredibly cerebral and trippy experience that hits almost instantaneously. You will giggle, you will be lost deep in thought, you will want to eat and feel incredibly relaxed - this plant truly delivers on every level and is not to be missed.
Furthermore, this strain is recommended in Holland as an effective medicinal strain that proves useful for battling pain as well as stimulating appetite.
For those of you who are growing indoor the flowering period is a quick 8 weeks with a yield of up to 800g/sqm. Outside the house will yield a production of 1200g/plant with the flowering process finishing by the end of September in the Northern Hemisphere.
Please remember that the growing of cannabis plants and the cultivation of seeds is illegal in some countries - please check the laws of your country and don't be growing any plants if it is against your country's laws.