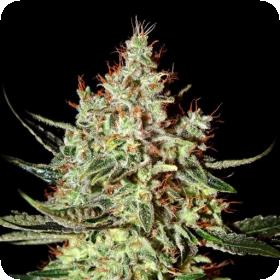 Don't pass up this opportunity to find out what happens when Trainwreck collides with Kush. This hybrid project from Greenhouse is a potent mostly-indica that lets its sativa side shine through.
Hailing from the mountains of India, Kush is one of the oldest, most potent, and most admired indicas. Trainwreck is a relatively new strain in comparison hailing from the United States. Its genetics are predominantly sativa. When these worlds collide, the only way to describe it is to say this: try it. You won't be disappointed.
This strain comes recommended for newcomers to cannabis cultivation or growers who just want a great quality, no-nonsense strain for an easy grow project. It is very easy to handle and requires very little in the way of maintenance. These seeds produce plants that are squat and bushy with sturdy lateral branches that quickly grow respectable clusters of resinous buds.
The effect of K-Train is a long-lasting high owing to the sativa genetics that simply will not be held down. Expect to feel the effects for several hours on average. The aroma is tangy and sweet with strong citrus notes and an undercurrent of musk and earthiness. The smell grows stronger as the plants approach full maturity. The smoke is very smooth but very strong. This strain is not recommended for first-timers but seasoned cannabis aficionados will love everything about it.
K-Train grows well outdoors in warm, sunny climates. Plant early May for harvest late September. These plants need those long summer days to produce optimally. Flowering time is very short - just 60-65 days on average. They work well in indoor setups as well and produce the best in quality and quantity when exposed to an 18/6 light cycle during the photoperiod.