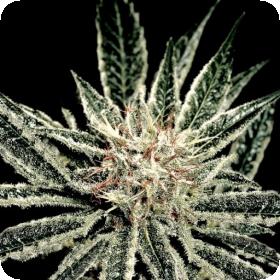 El Nino Feminised Seeds from Green House Seeds Co. are an Indica/Sativa hybrid with genetics developed from a combination of Haze, Super Skunk, Brazilian and South Indian.
First developed in 1996 this strain eventually stabilised and made available in 1998 after taking 1st place in the High Times Cannabis Cup in the Bioplant category in the same year.
This potent Indica/Sativa mix will develop into a medium structure with an excellent number of internodes. The trichomes grow short and fat with a fantastic amount of resin, this is a quality plant that will produce very satisfying results.
This strain will develop best as a multi-branch in an indoor garden but is robust enough to handle most conditions. Added to this, due to the high concentration of crystals this strain yields it is considered an excellent source of hash.
El Nino provides a very smooth high that relaxes the body as well as being soul pleasing. Like the powerful weather phenomenon it is named after, El Niño immerses you in an almost overwhelming stony effect which will put you at ease.
Due to the sedative effect this strain can influence it is best recommended as an end of the night smoke to help you drift blissfully to sleep.
For an indoor grow the plant will flower at the 8-week mark and will yield up to 800g/sqm and if you are in a more temperature region and growing indoor it is recommended to use a hydroponics system for best results.
If growing outdoors the crops will be ready to harvest at the end of September in the Northern Hemisphere with a production of 900g/plant.
It is worth noting that due to the equatorial origins of this strain it is recommended only to grow outside within 40 degrees of latitude from the equator.
Please remember that the growing of cannabis plants and the cultivation of seeds is illegal in some countries - please check the laws of your country and don't be growing any plants if it is against your country's laws.
Genetics:
Haze x Super Skunk x Brazilian x South Indian.