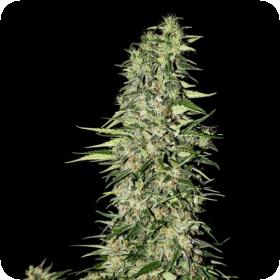 Diamond Girl Feminised Seeds
Diamond Girl Feminised Seeds from Greenhouse Seeds Co. are an Indica strain developed from a combination of Skunk, Northern Light, Haze and Early Pearl.
Previously known as Silver Pearl, this plant has become a mainstay of the Green House Coffee Shop menu and is now widely accessible to growers all over the world.
This fast acting indica strain is a very versatile plant which offers big production possibilities for a variety of grow operations making it an ideal option for beginners.
This strain can be grown indoors as well as outdoors, however for the best results possible it is recommended to use SoG, SCRoG or LST systems due to its lateral branching.
Although whichever method you choose to grow you will not be disappointed with the results - this is a medium-sized, multi branched plant that has a very short flowering time.
The high attained from this strain is a very mellow, relaxing sensation with a sweet taste. This makes it equally suitable for social or quiet environments and the effect on the body is quite light, as a result you will not find yourself nailed to the sofa.
The buzz is smooth and easy to handle and long-lasting which is why, combined with the minimal day to day maintenance it requires, it is considered an excellent choice for first timers.
For those of you who are growing indoor the flowering period is a very quick 8 weeks with a yield of up to 750g/sqm although this can be improved upon by using the methods already stated.
Outdoor crops will provide the biggest return on your investment, with a production of 900g/plant which will be ripe at the end of September in the Northern Hemisphere.
You will be rewarded with a floral bouquet of buds that glistening like shiny gems, hence the name, that works as good as it looks.
Please remember that the growing of cannabis plants and the cultivation of seeds is illegal in some countries - please check the laws of your country and don't be growing any plants if it is against your country's laws.
Genetics:
Skunk x NL x Haze x Early Pearl