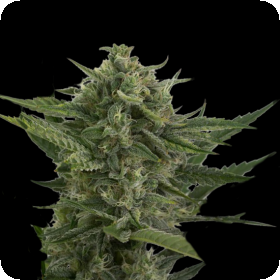 Reek'n Auto Feminised Seeds
Devil's Harvest brings you the auto-flowering version of their award winning OG Reek'n strain. This is a strong Kush strain with a deliciously classic flavour. This strain, even before being auto-flowering, was amazingly popular and won a number of awards, so expect great things.
It is extremely easy to grow and should be perfect for all levels of grower and breeder. This strain pretty much does all the work itself and has an extremely powerful and potent effect.
This strain is both auto-flowering and feminised, this means that it will only grow female plants and will flower of its own accord. Auto-flowering plants don't need a light cycle to flower, instead it simply happens at a time in their life automatically. This shortens the flowering time and the height of the plant without sacrificing the yield.
Auto-flowering plants are ideal for indoor or stealth growing. Feminised strains are usually popular amongst growers who don't want to deal with the male plants. The males can cause issues in a crop and need to be removed, wasting valuable time and money. Feminised seeds also tend to be of a higher quality and more impressive level of uniformity than regular seeds.
This strain will grow well indoors, outdoors or in a greenhouse and has a flowering time of 65 - 70 days.
Remember that the cultivation of cannabis seeds is illegal in some countries, please check the laws of your country before attempting to cultivate cannabis seeds.