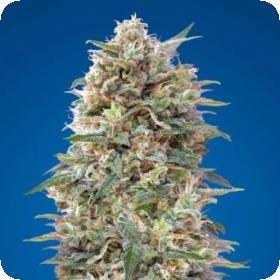 Auto California Kush Feminised Seeds
For the old school cannabis aficionados who find few things more exciting than the words "California" or "Kush", this is a special treat for you.
From the good people at 00 Seeds comes California Kush Feminised. This strain is extremely vigorous, fast growing, resinous and overall just a seriously impressive specimen.
It's high is soft but fast, delicate but intense and extremely fluffy and floaty. This is due to the fact that the strain is Indica dominant, which also accounts for its short growing time.
It only takes a couple of months for this stunning plant to produce a harvest of deliciously resinous nugs. This strain is great for any type of grower or breeder as it takes very little growing talent and will almost always give a great pay out.
The fact that the strain is feminised certainly doesn't hurt. Many growers are avoiding the traditional regular seeds in favour of feminised seeds.
They are easier to grow, give a greater yield for significantly less money and save a good deal of time and effort. Usually the male plants would need to be removed during grow period as they can damage the female plants.
Using feminised seeds means no messing around separating the males from the females. These seeds are not just for growers but can also be used by breeders, experienced breeders anyway.
It is possible to breed using two female plants, it may not be the easiest method of breeding but it certainly produces the best quality plants.
The minimum yield of this strain is a stunning 450 g/m2 and up to 550 g/m2 if grown outdoors. It has a flowering time of 55 - 60 days and will grow to a height of anywhere between 90 - 250 cm depending on where it is grown.
Please keep in mind that the cultivation of cannabis is illegal in several countries.