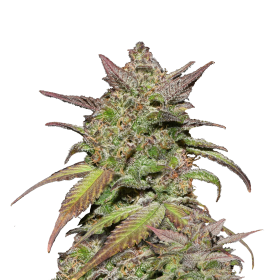 Smoothie Auto Feminised Seeds
Smoothie Auto is an indica-dominant hybrid of Blueberry and Somango cannabis strains.
Despite its autoflowering habit, it can produce some outstanding quantities of high-THC buds in a relatively short grow cycle.
Smoothie Auto may be grown in any location and will grow to a height of 80 - 110 cm.
Despite its bushy indica structure, it can be easily trained and is thus simpler to conceal outside, despite the fact that it develops one major cola surrounded by tiny branches.
When grown inside, it also flourishes in a SoG. Micro-growers will also benefit from high yields from a single plant. Its brilliant, lime green buds will be ready for harvest after a 9-week life cycle.
The flavour is quite delicious, reminiscent of a creamy, berry sorbet with ripe mangoes blended in.
It contains a high concentration of THC and a low concentration of CBD, resulting in a seamless balance of euphoria and physical relaxation.
It's a terrific daytime smoke and has a really social effect.