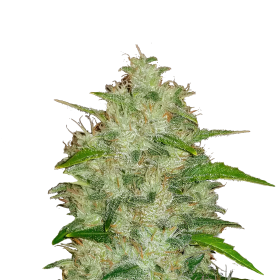 Original Chemdawg Auto Feminised Seeds
Original Chemdawg Auto is a predominantly Indica autoflowering strain with a terpene profile that is almost overpoweringly strong, with a distinct diesel-fuel bias. 
This is a robust, compact strain with a short life-cycle that produces strong THC levels and decent yields.
Original Chemdawg Auto is a fantastic outdoor alternative for people who prefer to keep a low profile in their gardens. 
It grows to a height of 60-90 cm and is suitable for both indoor and outdoor growth. 
It's simple to grow and would be a wonderful plant for a beginner. It takes about 8 to 9 weeks from planting to harvest, with yields of 350 to 400 grammes per square metre. 
To maximise yields, a Sea of Green (SoG) setup is recommended due to its structure. 
This variety grows quickly and has a high resilience to plant pests and illnesses. Its buds are easy to trim and have few leaves to contend with.
Diesel-fuel odours and flavours, as well as earthy Kush, will invade the grow room, so make sure your carbon filters are in good working order. 
THC levels hover around 20%, resulting in a powerful, almost narcotic effect; people with a high tolerance will appreciate this strain. 
Its high resin production gives it an ideal choice for extracting a variety of products.