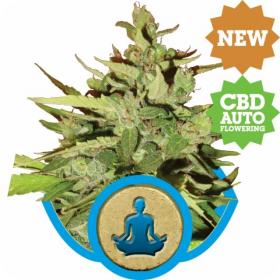 Stress Killer Automatic Feminised Seeds
Royal Queen Seeds - Stress Killer Automatic Feminised Seeds
Stress Killer Automatic is the ideal strain for anyone that has been looking for something light, clear and high functioning. It has all the uplifting nature of Lemon Shining Silver Haze but with some added CBD and a little more softness added by Juanita La Lagrimosa.
This strain has an amazing scent, a mixture of lemon and haze. Its effect is crystal clear and allows for easy concentration and going about daily tasks. This makes it a perfect medicinal strain for those who need something a little more active.
This strain is both auto-flowering and feminised, meaning that it will flower automatically and will only grow into female plants. Auto-flowering seeds are ideal for those who are short on time and space.
Since these seeds flower on their own, rather than in response to a light cycle, they will skip most of the vegetative stage. This will, in turn, stunt their growth and shorten their flowering time.
Despite their smaller size they will still produce amazing yields of top quality buds. Feminised seeds are ideal for growers who don't plan on breeding their own plants.
For these growers, the males are a nuisance as well as a waste of time and money. Feminised seeds are also higher in quality and uniformity than regular seeds.
This strain can be grown indoors, outdoors or in a greenhouse and has a flowering time of 11 weeks.
Remember that the cultivation of cannabis seeds is illegal in some countries, please check the laws of your country before attempting to cultivate cannabis seeds.
Genetics:
(Lemon Shining Silver Haze x Juanita La Lagrimosa) x Ruderalis