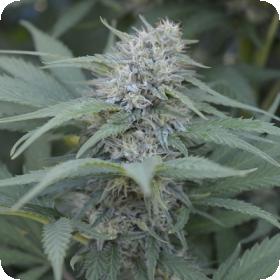 Black Domina 98 x ErdPurt Feminised Seeds
Complex Afghan hybrid bred from the elite Black Domina 98 clone (winner of innumerable cups), crossed with our best ErdPurt parental plants, an outdoor Afghani that has already demonstrated its excellent value in the development of other hash plant strains.
Black Domina 98 x ErdPurt grows with the desirable indica traits: small/medium size, strong, compact and robust structure, with very little stretch in flowering and a fast ripening, but with a strong vigour and branching that are not common in this kind of hash plants.
Unlike many other indica varieties, which tend to produce separate ball shaped flowers, Black Domina 98 x ErdPurt has a much more productive and uniform flowering throughout the plant, joining rock hard buds from the bottom to top, which form huge and heavy colas of intoxicating aromas and high resin production. The effect is powerful, physical and narcotic, with good medicinal potential.
A good number of plants of this hybrid show beautiful pinkish pistils when grown outdoors, a trait inherited from ErdPurt.
Excellent hash plant for commercial purposes, which will be enjoyed equally by small growers who love the most attractive and high yielding hash plants looking for a final product that stands out due to the strength of its effects and its impressive 'bag appeal'.
Feminized limited edition, available while stock lasts.
Genetics:
Black Domina 98 (clone) x ErdPurt