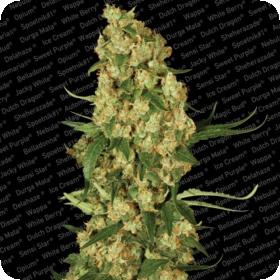 Wappa is an extremely powerful and robust Indica strain which is not only excellent for all types of growers but is visually beautiful.
This strain is easy to grow and extremely fast flowering with an excellent yield. It is a little shorter than most plants which makes it ideal for indoor growing or for those who have a relatively small garden.
If flowering is induced at about 1 ft this plant can double in size by the time its ready for harvest. The scent of the plant is sugary, sweet and fruity filling the grow room with mouth watering smells. Its leaf to calyx ratio is great making it extremely easy to groom.
The effect is and instant and powerful buz with a delightful mental lift and bodily relaxation that wont tie users to the couch.
These seeds are feminised and so will grow into an entirely female crop and will require a specific light cycle in order to flower. Feminised seeds are often preferred by growers due to their improved quality and uniformity as well as the lack of any male plants.
Wappa can be grown indoors or outdoors, it has a flowering time of 55 - 60 days and should be harvested in early October. Indoors its yields reach around 400 - 500 g/m2 and outdoors around the same but per plant.