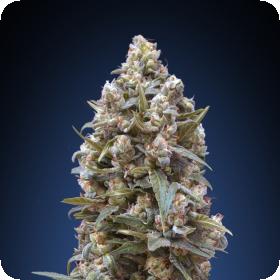 00 Seeds is proud to offer this feminised version of the original, iconic Hindu Kush in this very stable and predictable seed form. Kush is a world-famous strain that offers an impressive balance of indica and sativa effects.
One major advantage of this version of Kush is the average size of the plant. They are short and bushy and produce yields that are average for their size.
The squat nature of the plants makes them ideal for indoor growing, however a bit of floor space will need to be reserved to ensure they have room to stretch. That said, they still take up less space than average.
These plants grow to a maximum height of only two feet on average, making them easy to grow in closets, on balconies, or on shelves. As they mature, the buds become very heavily resinous and the smell intensifies.
The flavour of the finished product is dank and hashy with distinct notes of incense and spice.
Indoor growers will discover that these plants are agreeable to any preferred grow method and SOG and ScrOG growers will notice that they finish faster and produce better in those setups than in soil.
Average flower time for most Kush plants is only 9-10 weeks. Letting them grow for a week longer will impact the flavour a bit, but will intensify the effects.
Certain Kush plants have been found to have a higher CBD content than average, making them very attractive options for medical uses. Kush is also generally suitable for treating a number of physical and emotional issues, including chronic pain, anxiety, and sleep disorders.
Growers new to cannabis cultivation will discover feminised Kush to ideal for learning the basics of growing. It is an exceptional indoor and outdoor strain that resists fungi and moulds well.