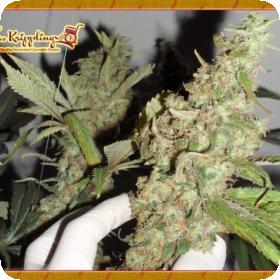 Afghan Cow Feminised Seeds
This strain is extremely sweet-smelling and resinous with a delightful sativa kick. Afghan Cow by Dr. Krippling Seeds is fun and active, perfect for socialising and getting creative.
This strain is a combination of Ash, Kaya 47 and Kali Mist. The effect is super clear and cerebral, perfect for day time use. This strain also produces a super high yield and is a vigorous grower.
Afghan Cow is a great strain for those suffering from stress, fatigue, depression, inflammation and pain. 
Afghan Cow is a feminised strain and will only grow into female plants. Feminised seeds are ideal for growers who don't plan on breeding their own crops. For these growers the male plants are a nuisance and can harm the females during the flowering period.
This means they have to be removed and, if they aren't being used for their pollen, they are thrown away. Since around half of a regular crop is male this is a huge waste of time and money. Feminised seeds also tend to be higher in quality and uniformity than regular seeds.
For this reason some breeders also prefer to use them, even though feminised breeding is very difficult. 
This strain has a flowering time of 7 – 9 weeks and can be grown indoors or outdoors. 
Remember that the cultivation of cannabis seeds is illegal in some countries, please check the laws of your country before attempting to cultivate cannabis seeds.
Genetics:
Ash x Kaya 47 x Kali Mist