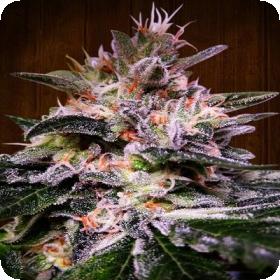 Bubba Hash Feminised Seeds
This lovely strain is an F1 hyrbid from two different Afghani plants. A cross between Bubba Kush, an Indica dominant, with a much loved classic Hash plant.
Hash has been one of the staple strains since it was created in the 90s and makes up the base of a number of amazing plants. It grows tightly packed clusters crammed with buds dripping in resin, this resin is ideal for harvesting and making into Hashish.
The effect is extremely relaxing and is often used by those who are in need of a medicinal strain in order to relieve stress, anxiety and nausea.
Bubba Hash grows extremely well in an indoor set up, due to its shape and size. It can take a lot of punishment and will grow well in almost any climate, it is also resistant to beasts, pests and mould.
The THC level sits at around 15 - 18% and it needs to be fed well during its growing phase.
Bubba Hash is a feminised strain, this simply means that they seeds will only grow into female plants. Feminised seeds have been growing in popularity since they were created by Dutch Passion due to their easy to grow nature and impressive results.
Feminised seeds tend to be of a higher quality than regular seeds and will also give a more uniform crop.
Many growers prefer to use feminised seeds because they can save a lot of time, effort and money that would otherwise be wasted on the male plants.
This strain has a flowering time of just 56 - 63 days and should be harvested in September when grown outdoors in the Northern hemisphere.
Please keep in mind that the cultivation of cannabis is illegal in several countries.