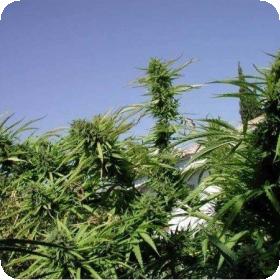 A newer sativa hybrid, Ace Seeds Tikal hails from the Guatemalan jungles and is among the best choices for first-time growers or those who prefer an easy growing experience.
It is easy to farm and grows with little attention. These seeds grow very well both indoors and out and are versatile enough to take to soil, potting and hydroponics with equally impressive results.
Tikal's strong central-American genetics make these seeds thrive well in a wide range of climates and conditions. It yields impressive trichome production and has high flower density. As for the experience, Tikal packs a wallop.
The strawberry aroma itself is intoxicating, even before it's harvested. It is a hardy sativa that grows tall and thin and stands upright and proud when mature. Experienced growers can prune the Tikal for an even higher bud density.
Why ACE Seeds?
ACE Seeds offers growers of all description a variety of cannabis strains to enjoy. The plants impress with their resistance to hermaphroditism and impressive yields. ACE breeding standards offer the opportunity for easy growth in a variety of environments.
It is this level of flexibility which allows growers who use ACE as their cannabis seeds of choice to enjoy steady success rates and higher-than-average yields.
ACE seeds are the culmination of a true labour of love for all things cannabis. The result of this commitment to excellence is the cultivation of the best quality cannabis specimens available.
ACE Seeds uses only the healthiest and hardiest plants of each of their strains. They produce both pure and hybrid seed varieties; all unsurpassed in overall quality and cultivated to standards worthy of the reputations they have earned.
ACE scours the globe to collect parent plants that are the best of their kind. They are completely committed to the preservation of the native varieties they use in hybridiztion, guaranteeing a top quality product every time.
Please remember that the growing of cannabis plants and the cultivation of seeds is illegal in some countries - please check the laws of your country and don't be growing any plants if it is against your country's laws.
Genetics:
Guatemala Sativa X Kush Haze