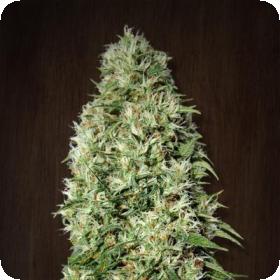 Orient Express Regular Seeds
Orient Express is an exceptionally potent F1 hybrid. It is a combination of abundant, fragrant and resinous flowers and is cultivated from the pollination of a Vietnam Black female by a male Yunnan Chinese.
While an indica/sativa blend, the experience provided by Orient Express is more characteristically sativa. It shows a heavier side of sativa characteristics in every way except its height.
Most Orient Express plants will grow to just under four feet when fully mature, making the strain an ideal choice for indoor cultivation.
The Orient Express also yields a higher number of flowers and buds than an average indica. The buds are not very dense but the final product is a clear example of how quality can outweigh quantity.
Mature plants are compact and branch nicely. The Orient Express flowers in just 9 weeks and its buds mature very quickly. It displays a deep and earthy organic aroma with floral endnotes. The taste is also very earthy: an almost muddy flavour mingled with uniquely floral qualities.
ACE seeds are the result of various hybridization efforts with years of attention to developing new and interesting strains.
Extensive study and development go into their production and they are the result of the cultivation of many diverse strains from all over the world. They draw from the purest of sources and produce cannabis varieties that bring out the best in the parent strains.
The result is a dependable hybrid that is highly adaptable for growing in various climates and indoor growing environments.
The diverse nature of ACE Seeds can be appreciated for their low-hermaphroditism rates and their impressive yields. ACE Seeds breeding standards allow for easy growth with deference to the grower's cultivation preferences.
They offer growers consistent success and an end product that is truly enviable, even on novice attempts.
Please remember that the growing of cannabis plants and the cultivation of seeds is illegal in some countries - please check the laws of your country and don't be growing any plants if it is against your country's laws.
Genetics:
Vietnam Black X China Yunnan