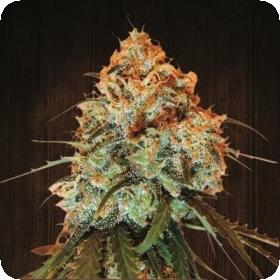 Golden Tiger Regular Seeds
Hailed as one of the most potent and interesting sativa hybrids available, Golden Tiger is an F1 hybrid of a "killer" Malawi mother and a carefully selected Meao Thai father.
It is the product of two very potent, very resinous sativas and produces a vigorously vegetative plant. The resulting buds are very dense with comparatively small leaves. Its trichomes are plentiful and absolutely packed with curiously strong cannabinoids.
Growers will enjoy Golden Tiger as an alternative to haze sativas and will be quite impressed by the experiences it provides. These seeds respond well to the Sea of Green growing method and, under most circumstances, will not branch out.
Grown outdoors, it will branch into bountiful bushes and yield a considerable number of buds.
Why ACE Seeds?
ACE Seeds are developed and cultivated from many pure cannabis strains. They are collected from some of the best sources anywhere and are cultivated with a commitment to preserving all native varieties in pure form first, yielding superior hybridization results.
ACE hybrid varieties share the best qualities of multiple strains. The end result of their efforts is a hybrid that presents consistent and dependable standards of breeding.
They are highly adaptable and are designed for use in diverse growing environments, whether indoors or outdoors, and they flourish well in various climates.
They mature quickly and are highly potent. They produce large numbers of flowers and an abundance of resins. They also offer a range of unique flavours.
ACE Regular seeds are a sensible option for the avid grower who appreciates the challenge of growing various types of plants as well as the diverse qualities possessed by each.
ACE breeding standards result in consistent, easy growth and an impressive yield in a variety of growing environments. Even novice growers are sure to have success using them in their growing projects.
Please remember that the growing of cannabis plants and the cultivation of seeds is illegal in some countries - please check the laws of your country and don't be growing any plants if it is against your country's laws.