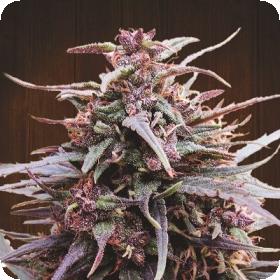 From the breeders at Ace Seeds comes Snow Moon, a beautiful hybrid created from Ace Seed's two favourite Hash plants. It is a combination of China Yunnan and Pakistan Chitral Kush.
China is a powerful Indica strain from the famous Orient Express cannabis strain. Pakistan Chitral Kush is a real classic and makes up the base of a number of top quality strains. There are two basic phenotypes to this plant; the white, and the blackberry.
The White pheno is reminiscent of classic White strains from the 90s and is definitely more China Yunnan than PCK.
The Blackberry pheno is much more reminiscent of the Pakistani side of the family and produces some seriously sticky blueberry resin as well as growing into a much more colourful plant.
This strain is pretty resistant to temperature change, beasties and diseases making it great for outdoor growing. The effect is warm and comfortable with a nice balance of Sativa and Indica.
This strain can be purchased in its feminised or regular form, these are regular seeds. Most old school growers and breeders are still fans of regular seeds for their easy grow and easy breed nature.
Most breeders will use regular seeds because they will grow into a combination of male and female plants. This allows the breeder to select the best male and the best female to act as the parents for the next crop.
A lot of people like to just plant the regular seeds outside and allow them to grow and thrive all on their own as they would in the wild.
Snow Moon has a growing time of around 42 - 63 days and should be harvested at the end of September or the start of October.
Keep in mind that the cultivation of cannabis is illegal in several countries. Please check the laws of your country before attempting to grow cannabis seeds.
 
Genetics:
Purple Pakistan Chitral Kush 2002 x Orient Express (China Yunnan hashplant pheno).