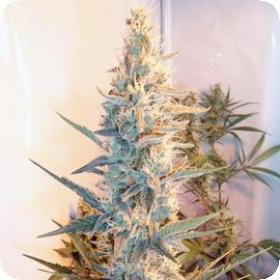 Outdoor Grapefruit Feminised Seeds
Female Seeds Outdoor Grapefruit has all the vigorous appeal of its predecessor with the advantage of being optimised for outdoor growing. It thrives in Mediterranean climates and those conducive to growing crops like wine grapes and olives.
The conditions can be simulated indoors with comparable results. This strain is sativa-dominant and yet possesses many impressive qualities that are distinctly indica. The plants produce huge, long buds that become covered in sticky, crystalline resin as they mature.
They produce so much resin, in fact, that it quite notably weighs them down.
The aroma is much like the name suggests - a sour citrusy blend that is both hashy and tangy while remaining deliciously sweet. It does a stellar job of raising anticipation as it grows.
Once able to give it a go, the user discovers that the flavour is virtually identical to the smell. It has a strong note of grapefruit with the same sweet hashy quality to its flavour.
The effect of this strain is curious and complex. It incorporates the perfect creative, uplifting high of a fine sativa merged with the relaxing full-headed stone delivered by a high quality indica all in one tempting package.
Such is the power of Grapefruit. It packs a strong punch that comes on fast and lingers for hours. Medical users, particularly those who suffer from various sleep conditions, depression and anxiety will find this strain to be excellent therapy.
It also works well on common physical ailments such as arthritis.
Outdoor Grapefruit is an ideal strain for growing both indoors and out. Inside, it responds to any common growing method. Outside, it grows well, even under colder conditions.
It should be harvested prior to first frost but there are few other necessary considerations. Experienced growers and novices alike will find working with Outdoor Grapefruit both pleasant and rewarding.
Please remember that the growing of cannabis plants and the cultivation of seeds is illegal in some countries - please check the laws of your country and don't be growing any plants if it is against your country's laws