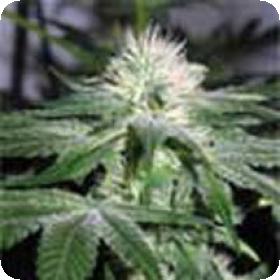 Female Seeds Ice is the result of an exhaustive selection process that began with a cross between a Skunk Special X and a White Widow.
The story of Ice begins in 1996 with that first hybridization project. Multiple phenotypes and a good 500 female plants later and the current Ice strain were found.
The perfect pheno emerged and it was obvious that it had to be preserved. The result is a plant with huge buds, courtesy of its Skunk Special ancestors and a copious amount of rich, snowy-white resin supplied by the White Widow side.
The look of the plant is pure indica and the effect is one to match.
THC concentrations are high in Ice. Even though there are still several phenotypes, the consistency of quality is very impressive. This strain has gone through a considerable amount of back-crossing and stabilisation efforts to reach the point of quality it has today.
The end product is potent with classically indica characteristics. It gives off an aroma that is much like the Diesel strains with a flavour that is typically indica and contrasts nicely with the smell. Flowering time is only about 8 weeks.
Ice is intended primarily for indoor growing. While it will grow well outdoors in certain environments, these plants like balance and consistency to a degree that can only be achieved indoors. Growers should be aware that while these plants are easy to grow, they like their pampering.
A steady and consistent supply of nutrients, consistent lighting, warmth and low humidity are a recipe for success and an abundant harvest. Growers with a little experience will have great success working with Ice and will also find that the plants clone well.
Find a pheno that performs well and the return on investment in these seeds can be considerable.
Please remember that the growing of cannabis plants and the cultivation of seeds is illegal in some countries - please check the laws of your country and don't be growing any plants if it is against your country's laws
Genetics:
Skunk Special x White Widow