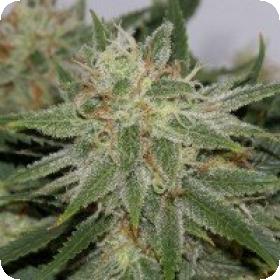 Grapefruit Feminised Seeds
Female Seeds Grapefruit Feminised is a very vigorous strain that rewards the grower well for his or her efforts. This strain is a sativa-dominant with some very impressive indica qualities. The split is 60/40 so there is plenty brought to the table by both sides.
The buds can get downright huge and very long and are also covered in a thick coat of sticky, frosty resin. These buds produce so much resin it actually tends to weigh them down.
The aroma given off by these plants is, as the name suggests, a sour citrus that is at the same time tangy, hashy and syrupy sweet. It gives clear hints of good times to come.
As if the anticipation from that amazing aroma weren't enough, the flavour is just like the smell. It delivers a strong grapefruit overtone with the same sweetness and thick hashy quality.
The effect of this strain is the best of both worlds. Imagine the perfect uplifting and creative high of the best saliva's in the world coupled with the all-over relaxing stone of a high quality indica rolled into one package and there lies the power of Grapefruit.
It packs a real wallop that comes on strong and holds on for hours. Medical users with sleep conditions, anxiety and depression will find this strain to be, quite literally, just what the doctor ordered, heavy-headed effect and all.
Those with physical ailments like arthritis and muscular pain also herald Grapefruit as a fast remedy for their symptoms.
Grapefruit is an ideal strain for indoor and outdoor growers. Indoors, it responds well to any grow method and it grows well outdoors, even in colder climates.
The plants should be harvested before first frost when grown outdoors but there are few, if any other considerations in terms of climate.
Please remember that the growing of cannabis plants and the cultivation of seeds is illegal in some countries - please check the laws of your country and don't be growing any plants if it is against your country's laws.
Genetics:
C99 (75%) x Fruity Sativa (25%)