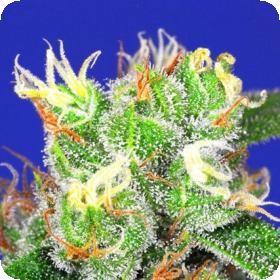 Medi Bomb #2 Feminised Seeds
This Sativa dominant variety is optimised to produce a crystal clear, euphoric, energising, pain-killing high, without any of the strong body stone or sedative elements that you'd find in an Indica - a set of properties which make it a great daytime strain for those times when you need to medicate but still remain functional.
Genetics for this strain are from a specially chosen Super Silver Haze and Bomb Seeds' popular Bomb #2, resulting in a crystalline appearance and massive production.
With a 9-11 week flowering time, this variety can generate incredible yields of up to 700g/m2, with the plant height coming to a medium-high level.
THC levels of this strain are through the roof,but the CBD content is described as very low, so beginners should exercise caution with this powerful medicine.
The flavour is of exotic spices, whilst the crystal coated, glittering appearance of this strain gives it massive bag appeal.
Genetics:
Super Silver Haze x Bomb #2