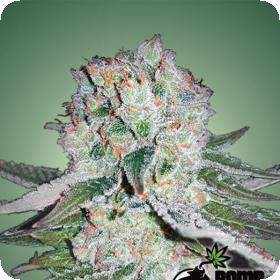 Banana Bomb Feminised Seeds
Banana Bomb is an 80% indica strain bred by using THC Bomb pollen to fertilise a very sticky Banana Kush mother plant.
Each parent produces very good yields and potency and together they deliver great taste too. Suitable for both indoor and outdoor cultivation, Banana Bomb grows to a medium height of between 90 - 140 cm.
Indoors although it can grow into a real monster outdoors with plenty of sun maxing out at around 300 cm. Indoor flowering takes 7 - 9 weeks with great yields of 500 - 600 gr/m2.
The smell is very strong from early on in the flowering period so use of carbon filters is recommended. Training is recommended to control its stretch as it can get a bit unwieldy and it will help to maximise yields by giving better exposure to the lights. Mature buds are massive and very sticky with resin.
Outdoor harvests in the northern hemisphere will be in late September - early October with some stunning yields possible. The strong banana scent of early flowering is filled out with more earthy Kush aromas later towards maturity. THC production is very high at up to 22% but 20% is easily achieved even without much experience of growing or indeed in normal soil with fairly low nutrient levels. Its effect is of a potent indica head-high which is uplifting at first and eventually physically relaxing.