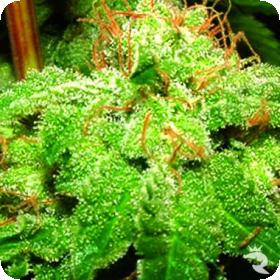 Known as "The G" to its friends, this truly elite strain was once only available in clone form via underground traders in the UK. Back then it was called, "G-Force" and, in some circles, just "G."
Not for the first time, Big Buddha has taken a sought-after strain and reverse-engineered it to make it available in seed form. Growers love it because it is so easy to handle. Smokers love it for the 1-2 knockout punch it delivers.
In true "throw it and grow it" style, G-Bomb is simple to cultivate and grow. Feminised seeds like these are, by definition, easy for growers of all levels of experience.
Novices will enjoy how self-sufficient the plants are and how well they resist mould, fungi and various plant diseases. Experienced growers will love just how adaptable they are to their preferred growing methods.
Grow it indoors or outdoors. Use any soil, pot or hydroponic method. Everyone will love the yield. G-Bomb delivers a large quantity of high-quality product - about 125 g per plant - that maintains a long shelf life, allowing every bit to be used and enjoyed.
The seedlings are hardy and strong and grow quickly into beautiful classically indica-looking plants. The tallest plants barely top 4 feet making G-Bomb an ideal strain for growing indoors with limited vertical space.
It can grow in a closet with a consistent 12/12 light cycle. Flowering time is about 8 weeks for great product, about 10 weeks for unbelievable product.
The buds are dense and high in THC. When allowed to fully mature, the end product takes on a pungent hashy and spicy aroma with a leony-hash flavour.
The CBD content is also high which gives G-bomb a strong full-body stone that is perfect for medical users who have issues with migraines or insomnia.
Please remember that the growing of cannabis plants and the cultivation of seeds is illegal in some countries - please check the laws of your country and don't be growing any plants if it is against your country's laws.