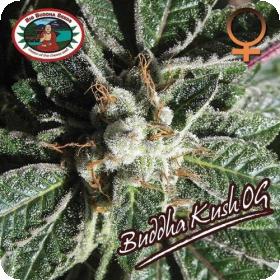 Buddha Kush OG Feminised Seeds
For everyone out there who has been searching for the perfect Kush strain, look no further. Buddha Kush is the result of years and years of research and countless hours of hard work.
Finally a Kush strain for every hard core Kush lover, a cross between a reversed 98 Bubba Kush and a mystery Californian OG Kush. It has an extremely powerful effect and works well as a medicinal or as a recreational strain.
Buddha Kush OG has the potential to be a mutli-award winning super strain, definitely one to watch out for.
Buddha Kush is a feminised strain which means that it will only grow into female plants. Almost all strains that have been feminised and have shown improvement in their uniformity and in their quality.
They are also ideal for growers who don't need the male plants for future crops. The males can cause issues in the crop and need to be removed during the flowering process.
This is an enormous waste of time and effort, not to mention money. A grower would need to purchase twice as many regular seeds to receive the same number of female plants in a feminised crop.
This strain can be grown indoors or outdoors and has a flowering time of 65 - 75 days.
Remember that the cultivation of cannabis seeds is illegal in some countries, please check the laws of your country before attempting to cultivate cannabis seeds.
Genetics:
Mystery Californian O.G Kush x 98 Bubba Kush (reversed)