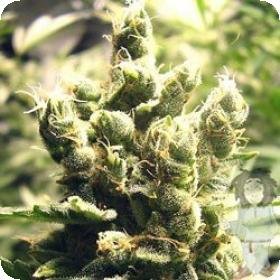 This mostly-indica strain was developed by Big Buddha by crossing the iconic Cheese clone female with a male God Bud - a strain from Canadian seed bank BC Bud Depot. The Cheesus name has its own story.
The strain has uniquely powerful medicinal qualities and a strong narcotic effect. Its aroma and flavour are calming and relaxing; the aroma of lavender mingles nicely with flavours of pine berry and the signature feta cheese.
Growing Cheesus is easy and the strain responds well to all popular growing methods. It sprouts in a day after the usual soak and the seedlings root well and grow strong and healthy. Cheesus plants grow stout and thick with petite and slender indica-typical leaf patterns.
They have a strong and sturdy branching system that nicely supports its very dense and heavy buds.
The tallest these plants grow is 4 feet, making it an ideal strain for indoor growers. They need a little horizontal space but work well in rooms with low ceilings. When grown outdoors, Cheesus will grow a little taller on average but only by a few inches.
Each plant is capable of producing about 125 g of finished product with a considerable shelf life. The flowering period is just 8 weeks and the buds grow richer and more powerful with an extra week before harvesting.
THC content is high, from buds that are just enormous for their kind. CBD content is also high, giving it the ability to produce a good all-body high with those legendary relaxing effects.
Growers new to the world of cannabis will find these feminised seeds very easy to cultivate and grow.
Feminised varieties require less maintenance and care and generally out-produce their "regular" counterparts. Cheesus represents well Big Buddha's "throw it and grow it" philosophy which governs their development of easy-to-grow strains with superior yields.
Please remember that the growing of cannabis plants and the cultivation of seeds is illegal in some countries - please check the laws of your country and don't be growing any plants if it is against your country's laws.
Genetics:
Big Buddha Cheese (UK) x Godbud (BC Bud Depot) Canada