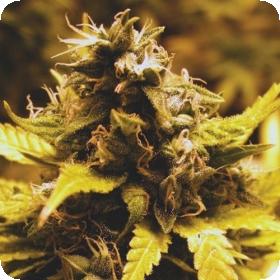 Cheese Dawg Feminised Seeds
Cheese Dawg is the child of a Chemdawg 91 and a Big Buddha Cheese. It is yet another achievement by the breeders at Big Buddha and it brings with it an eclectic mix of aromas and flavours.
The number 91 is significant in that it represents the year of Chemdawg's inception. As the story goes, it actually originated with seeds that were acquired at a Grateful Dead concert in the U.S. No wonder it has such great mojo!
In the years that followed, Chemdawg earned a reputation for being a high-quality, stable strain with a unique almost medicinal taste. The smell has been described as a mix of classic Skunk #1 and a tangy feta cheese endnote.
The end product delivers a deep, luxurious high. Chemdawg, just like Cheese, has lent its genetics to a number of hybrid strains, many of which have been lauded across the globe for their awesomely quirky qualities.
When those two get together, you get a strain of cannabis that enthusiasts of all description can appreciate.
The medicinal benefits of Cheese Dawg are many as well. It is a dominant indica which gives it a powerful punch that is also anti-depressive and good for patients who suffer joint pain, anxiety and migraines.
The plants are a pleasant light green with classic indica qualities. The buds are big and fluffy - not overtly dense, but with a nice amount of resin and a moderate THC concentration.
Flowering time is just 8-10 weeks and growing is easy, especially since these seeds are feminised. Those new to cultivating cannabis will find Cheese Dawg to be agreeable when using virtually any growing method, either inside or out.
The plants grow stout and tight with decent branching. Outdoor growers should plan harvest before first frost, but the plants do stand up well to cooler nights.
Please remember that the growing of cannabis plants and the cultivation of seeds is illegal in some countries - please check the laws of your country and don't be growing any plants if it is against your country's laws.
Genetics:
Chemdawg 91 x Big Buddha Cheese (Reversed)