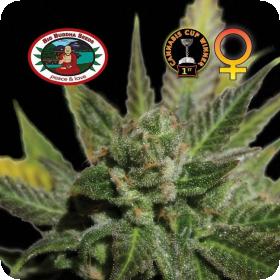 Big Buddha Cheese Feminised Seeds
Big Buddha Cheese is the #1 strain of the UnitedKingdom, famous all over the world and has won countless awards.
Originally, we crossed a clone withour pure Afghan male from our library.Two years of selective back-crossing allowed us to isolate the specific features we loved.
The Big Buddha Cheese in the form of feminised seed retains the old-scool taste of its mother and with the help of the original Afghani, has a higher overall yield than the original mother.
Years later, the extensive genetic research of Big Buddha had made a significant breakthrough as he finally created his life's masterpiece...PURE Big Buddha Cheese!
The Big Buddha Cheese seed available today is the purest Cheese seed in the universe... It is the only seed that carries the same genetics as used in the original 1st generation Big Buddha Cheese seeds that contain the genetic growth traits of the Afghani but has that OG Skunk smell and taste of pure Cheese!
Big Buddha Cheese TM is... The original 'Cheese seed' produced by the Big Buddha in 2002.
Parents: Big Buddha Cheese x Big Buddha Cheese Reversed
Genetics: Feminized, 100% Indica, 100% Pure Cheese
Flowering time: 7 to 9 weeks indoors; end of October outdoors.
Effect: very high, no ceiling, clear, long-lasting.
Scent: Unique, pungent, old-scool aroma.
Taste: Unique,pungent, mature cheese
Yield: indoor-100 gr.+; Outdoor-500 gr.+
Genetics:
Big Buddha Cheese x Big Buddha Cheese Reversed