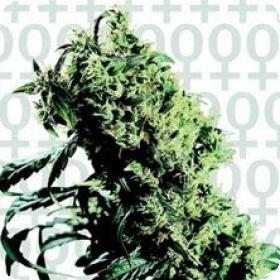 NL#5 x Haze Feminised Seeds
NL#5 x Haze is the perfect marriage of an Indica and a Sativa strain maintaining the desirable features of both strains. This strain is regarded by many as an absolute triumph in cannabis breeding.
The Sativa genes in this strain have not been overwhelmed by the Afghani parent plant which is something that comes as a very welcome surprise to those who have tried it.
NL#5xH flowers rather impressively, crops which are being cultivated indoors can often be flowered with almost no vegetation period. The branches of the strain become coated with large, sticky buds which continue to become engorged right up until the end of the flowering period.
This feminised strain has impressed growers and breeders everywhere with its uniformity, its yield, and with how easy it is to clone. Essentially this strain contains the amazingly cerebral Haze effect whilst retaining the impressive yield of Northern Lights#5.
These seeds have been feminised primarily for the convenience of Sensi Seeds' customers. Many modern growers have absolutely no interest in cultivating any male plants as, it is often the case that, they have absolutely no use.
The only function of the male plant is to produce the pollen used to fertilise the female. Therefore, to anyone who has no interest in breeding they serve absolutely no purpose, they also take up valuable time, space, and of course money.
A grower using regular seeds would have to purchase twice as many seeds as the number of desired females, thus the grower not only wastes money but lowers their crop productivity by ignoring the presence of feminised plants.
Even for breeders using a male plant is not the only way to create seeds, it is in fact possible to convince the female plant to produce the very same pollen.
This is a difficult and arduous process but one that certainly pays off, using to female plants heightens the likelihood of quality and uniformity in a crop.
NL#5xH enjoys an extra, extra large yield as well as a spectacularly short flowering period of just 65 - 75 days. It flourishes best in sunny or Mediterranean environments where it can receive plenty of direct sunlight.
The strain 70% Sativa and is truly a huge achievement of the breeders at Sensi Seeds.
Please remember that the growing of cannabis plants and the cultivation of seeds is illegal in some countries - please check the laws of your country and don't be growing any plants if it is against your country's laws